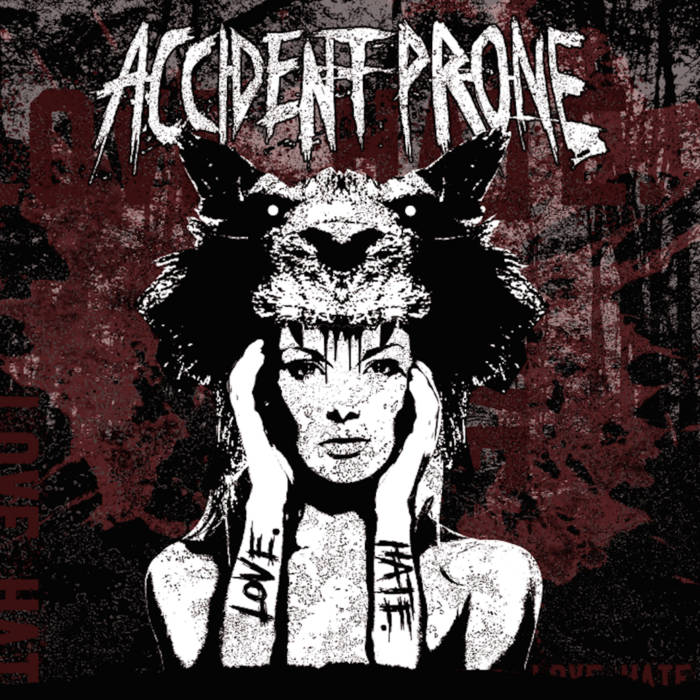 Accident Prone release their debut EP through Pushed Too Far Records in two weeks time. The band who hail from Virginia,  take their influences from bands such as The Dillinger Escape Plan and Every Time I Die and it shows throughout as they bring in huge drums and raw vocals those bands do so well.
The vocals sound raw and aggressive from the moment Love Hate begins, that you can almost their vocal chords tearing at the menace of those vocals. Renaissance Lost (which you can see the video for here) begins this record and it sets the scene for what is to come on this EP, as the record explodes with energy throughout.
You cannot ignore the drum work on this record, it slams into your ears at a break neck pace, tracks such as Dead By Dawn really display the skill of the drummer on this record, building the song and giving it a fantastic foundation as the guitars enter the track. The guitars combine with those drums perfectly, in places they can seem drowned out, but they certainly do not on tracks like Freak Fatale as those riffs make it a highlight of this EP.
Lyrically powered with vitriol, this band certainly have something to scream about on this record. Powerful vocals and strong lyrics this band certainly make a statement on Love. Hate, and if you like thrash, hardcore or metal, or all three, you need to hear this EP soon. Highlights for me are Freak Fatale and Placebo. This band works brilliantly together and these tracks highlight that perfectly, it's an EP, worth waiting for.
You can find Accident Prone's Bandcamp here.