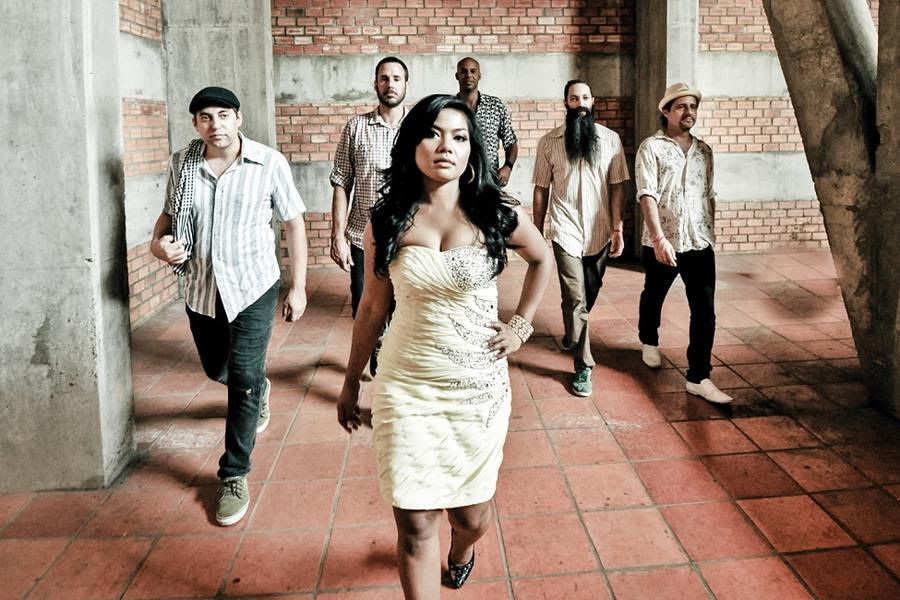 Dengue Fever re-release their first two albums on vinyl this week, their self titled and sophomore record, Escape From Dragon House. The band who hail from Cambodia created a sound of their own, bringing together a combination of garage rock, psychedelic rock, Khmer rock, world music and the almost lost rich Cambodian music from the 1960's and '70's.
These albums alone do sound incredible. The band create a genre for themselves, with psychedelic melodies on tracks such as Tip My Canoe on Escape From Dragon House and those darker notes on tracks such as New Year's Eve that build and you can see those 60's/70's influences shine through making for a captivating listen – these album pull you in with ease, and these deluxe editions add to that sound.
The additions to Escape From Dragon House showcase the quality of this band live. Including tracks from Napster Sessions the band have done of the title track and Sni Ha shine a light on the sound of Chhom Nimol whose vocals drive these tracks and combined with the melodies this band create it makes for a great listen. The deluxe also feature two remixes of tracks, Made Of Steam and Sleepwalking Through The Meking. Made Of Steam adds a layer of tension to the album that builds on the track which contrasts with the twinkling sound of 'Sleepwalking..'.
Dengue Fever's self titled also has some great additions to the album. Including five new tracks, these includes songs from sessions the band have recorded once again and remixes of highlights from the record. Doo Wop is a great song from the band's debut that certainly highlights the band's influences and this live version really highlights the pop sensibilities the band have too. This continues on Thanks A Lot as the band share another live track which gives me the impression that when this band tour, it's going sound so good live.
Remixes of tracks such as A Go Go certainly sound amazing, the band's energy captured on this new version of the song, with cool guitar riffs and subtle drumwork that makes this track stand out and this continues on the Lost In Laos Remix from Tom Chasteen bring those modern elements to the psychedelic stylings of the band that blended incredibly well together on this track making for a very chilled out vibe from the track that contrasts from the original in a good way, showcasing the band's versatility.
I didn't think you'd need reminding of how good the band's original work is, it still shows now on these new re-releases, and combined with these new additions, for fans they make for excellent additions to your record collection. Highlights from these deluxe additions for me are Doo Wop, Lost In Laos (Tom Chasteen Remix) and the Mastered remix of A Go Go is a must listen from the band's debut.
9/10.